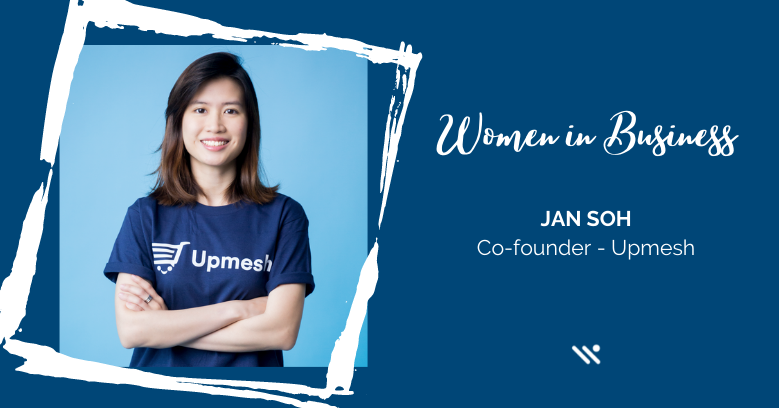 Women in Business
Post on March 14, 2022
To celebrate International Women's Day, we interviewed some of our inspirational female workbuddy members to showcase their stories…
Introducing Jan Soh, Co-founder of Upmesh
Tell us about Upmesh
Upmesh is a rapidly-growing tech startup on a mission to reinvent how people shop. Through merging entertainment with shopping, we're creating new shared experiences and growing new communities where people can buy, sell, and connect in exciting new ways.
Already operating in four countries, we are on a trajectory to bring together community and commerce in SEA, empower small and medium merchants to scale and enable versatility and convenience in the ever-changing purchasing landscape of the digital consumer.
What is your current role?
I am the Co-founder of Upmesh and Country Manager for Singapore. I oversee the operations across various functions and am responsible for developing the business here.
What do you enjoy most about your role?
The social and live commerce space we're in is extremely fast paced and highly competitive. I appreciate the autonomy and every opportunity to experiment with new strategies that drive the business forward.
I'm also thankful for the privilege to be able to define culture for the team and create an environment where everyone is empowered to try, learn and grow, both individually and as a team.
What does a typical work day look like for you?
A busy day full of clearing emails and internal functional meetings to sync up our operations plus strategic meetings on upcoming plans. I always take personal focus time to come up with new initiatives or GTM strategies and of course there's also meetings with potential partners.
How do you work towards achieving work-life balance?
I believe in work-life integration, but I do set aside time to just rest and hang out with my family and friends.
I enjoy the flexibility and freedom that the workbuddy membership offers as I'm able to book any space whenever and wherever I may be, when I need a space to pop into to do some work — especially between meetings.
How do you wind down and relax after a stressful day at work?
I love exercising and will try to fit in some sport or run at least twice a week. I'm definitely not a connoisseur, but I love my grub and will go for some good food to reward myself every now and then. I mean, who doesn't right?
Do you have any tips or advice to give other women in business?
I've always been a huge consumer of tech but never thought I'd actually be building a tech startup, until Upmesh.
When the opportunity came, I jumped at it and trusted myself to figure out a way to keep up and grow with the industry, despite its challenges.
Tech developments happen so rapidly and there is always competition. The Upmesh journey has definitely been challenging but yet exciting, fulfilling and rewarding at the same time.
So, my advice to fellow women in tech is to always keep your vision and goals in mind, and never stop building towards it.
What is your favourite workbuddy location and why?
My favourite so far would be Kloud at Keppel Bay. I like the ambience there, with the amazing view of the sea and Sentosa.
___
Find out more about Upmesh at: https://upmesh.io. Feel free to get in touch for any referrals or partnerships!
Follow workbuddy on Instagram or LinkedIn to hear more inspirational stories from workbuddy members.
Celebrating Women in Business — 365 days of the year. #workbuddysg